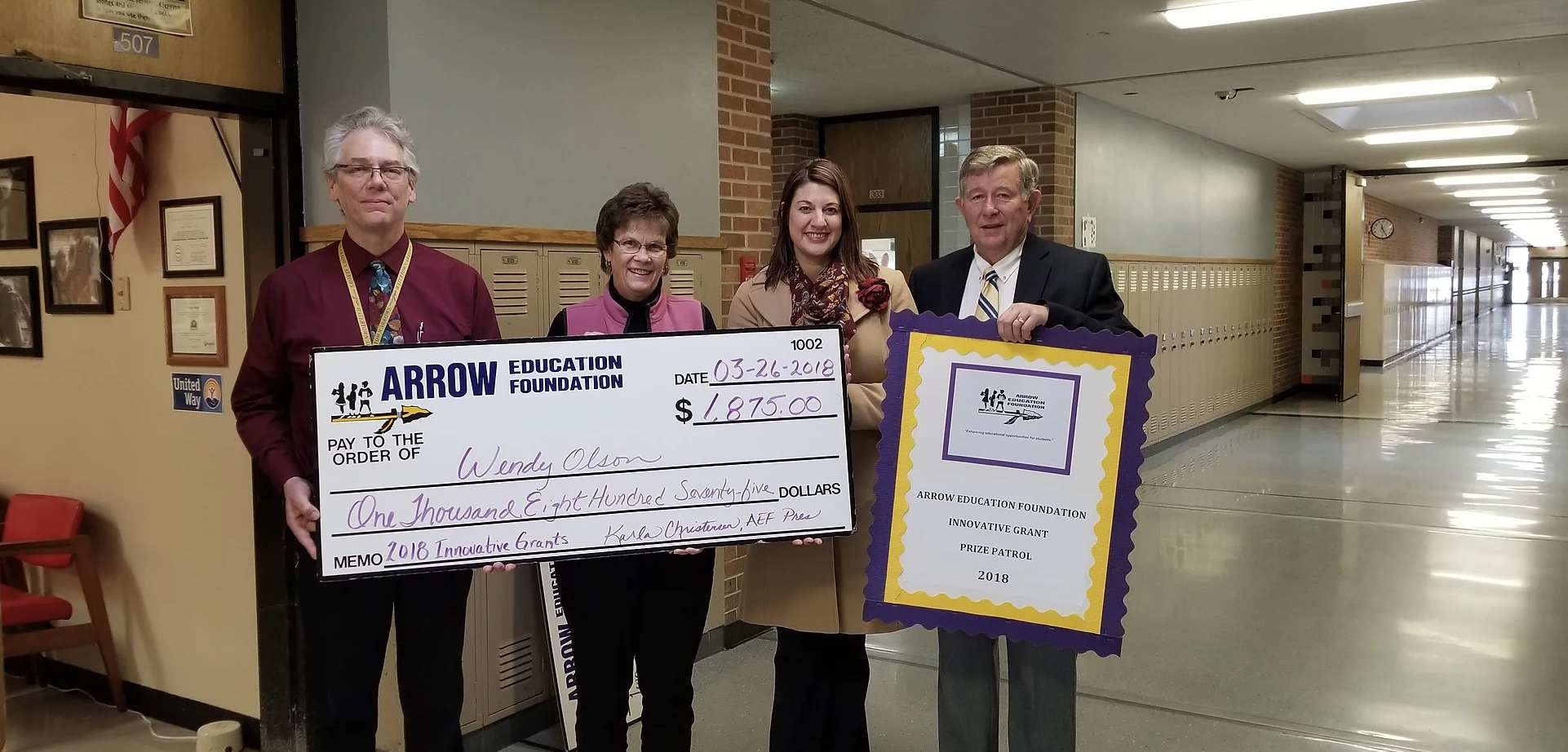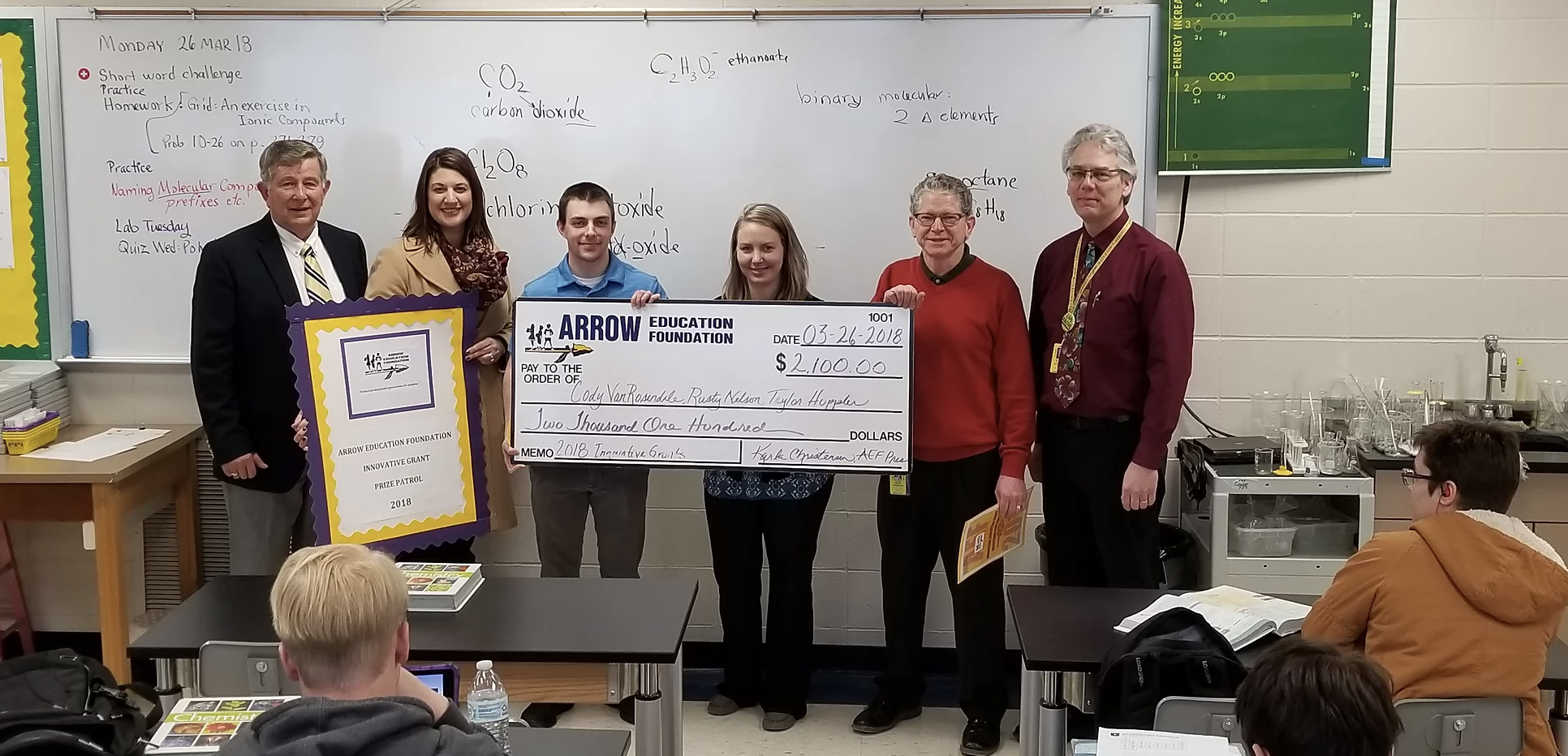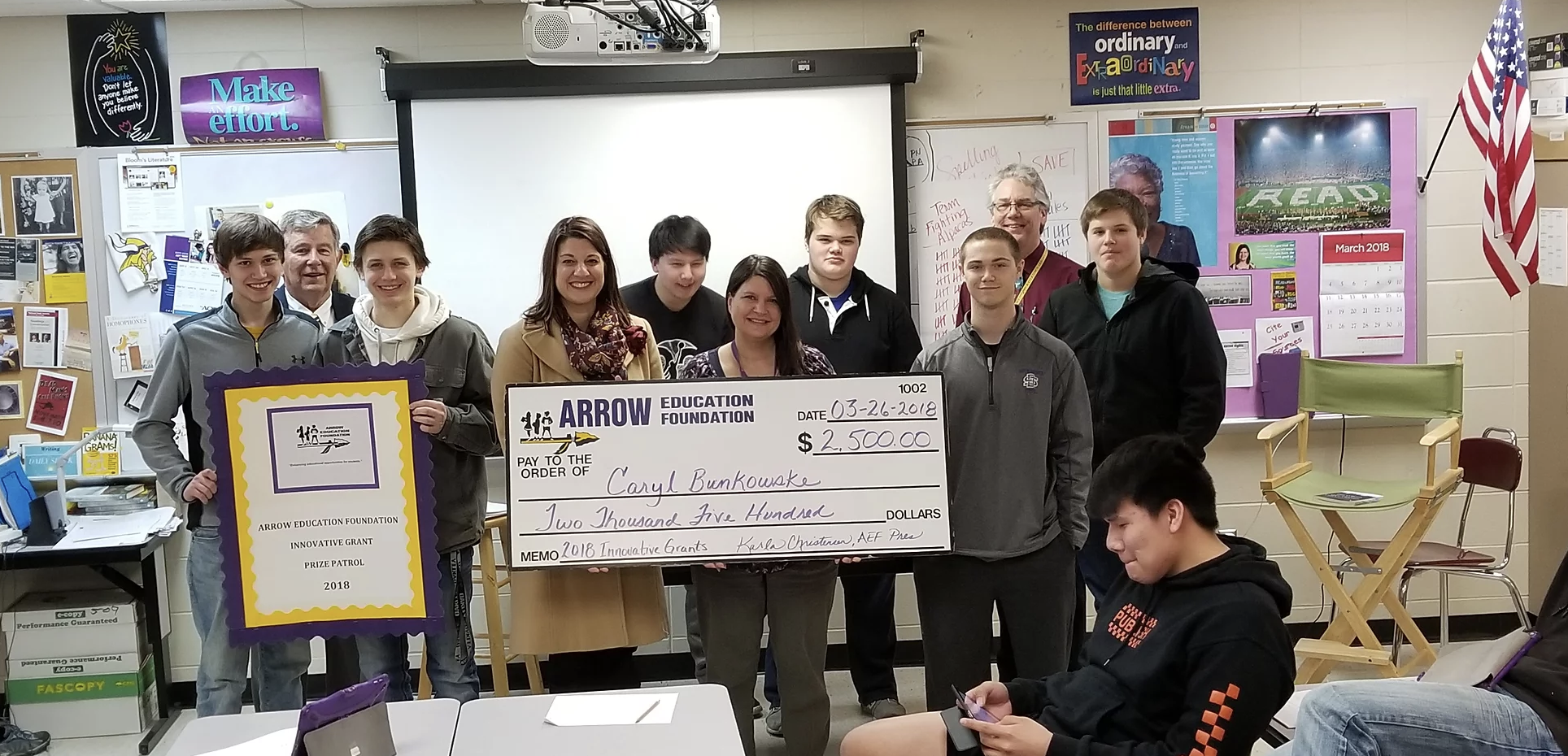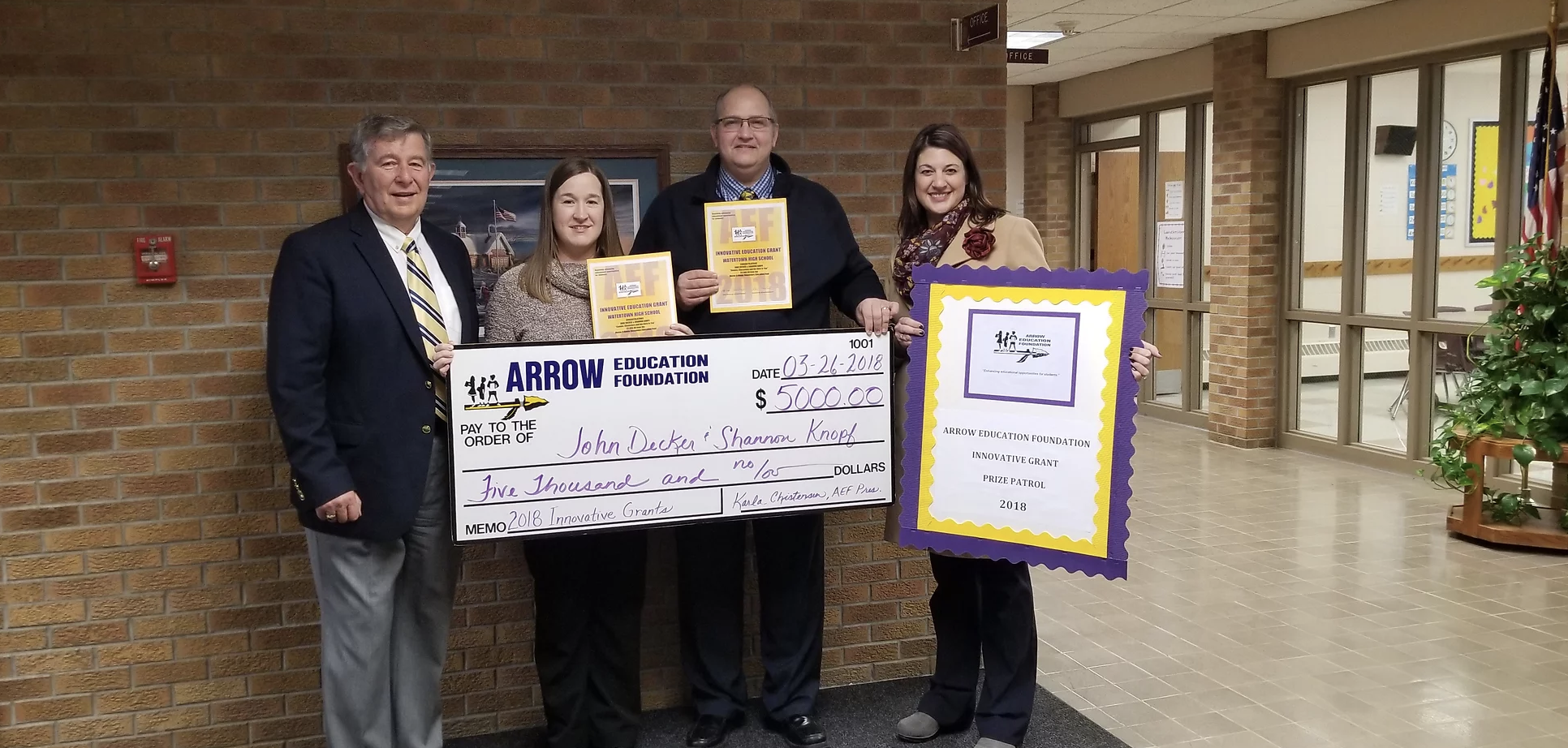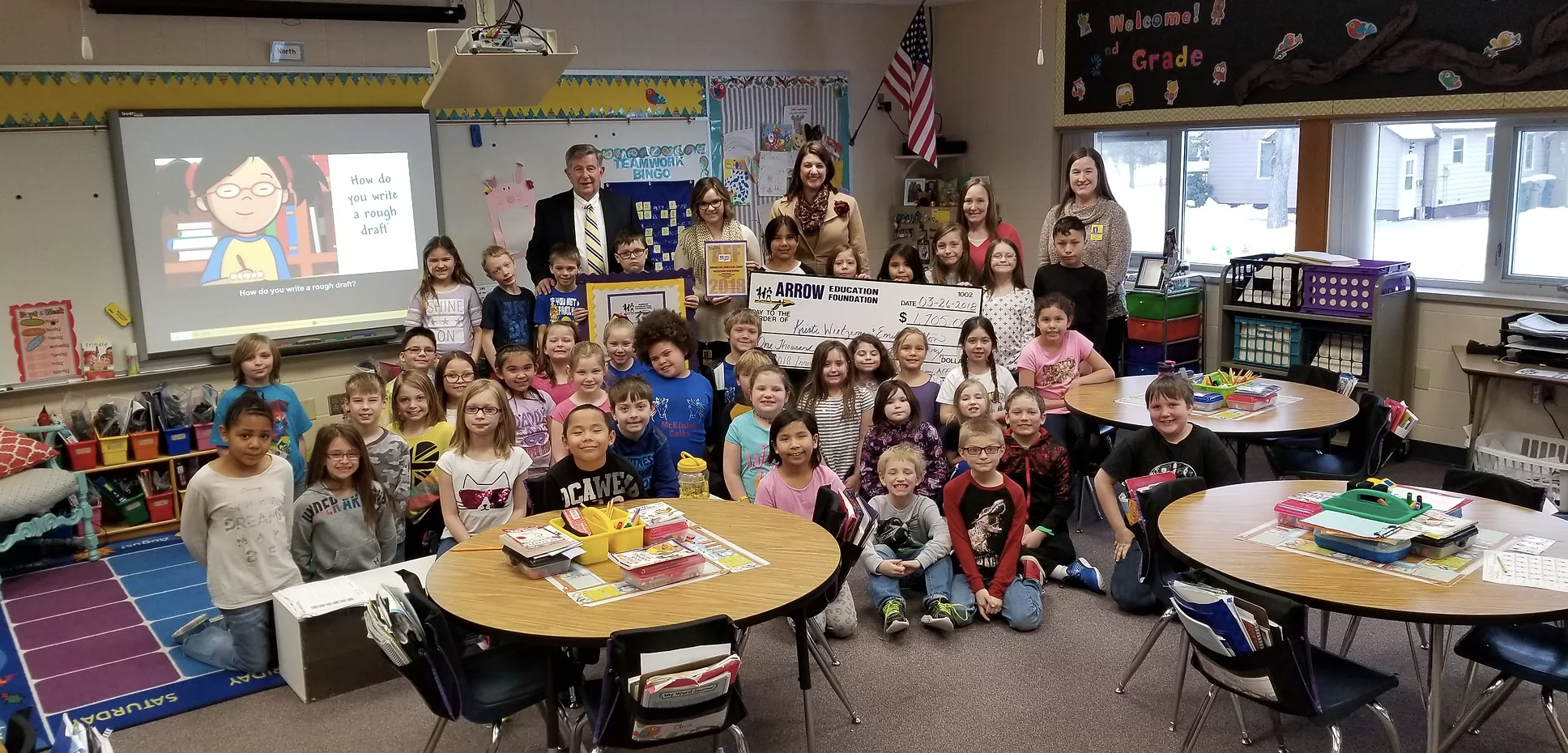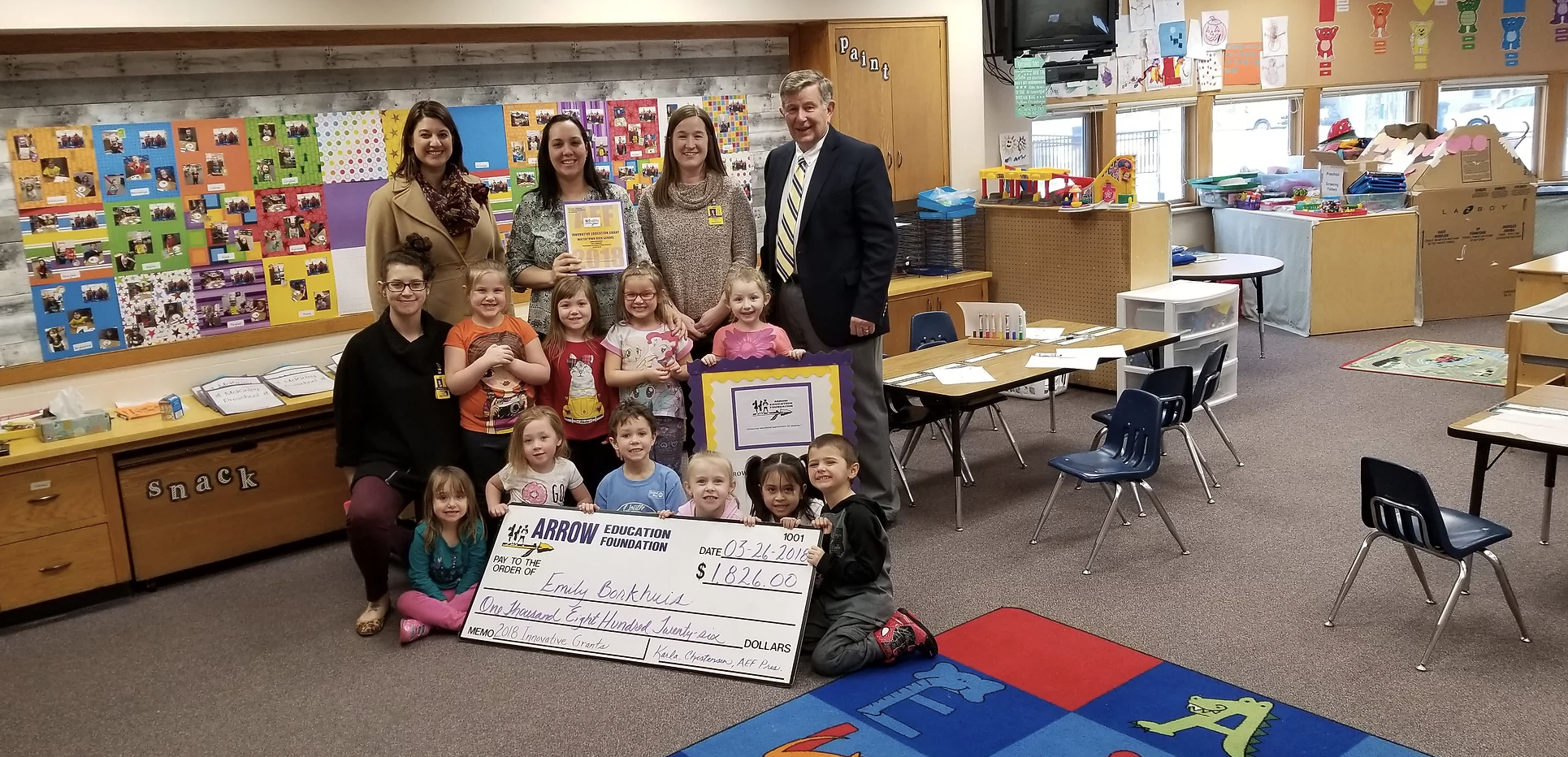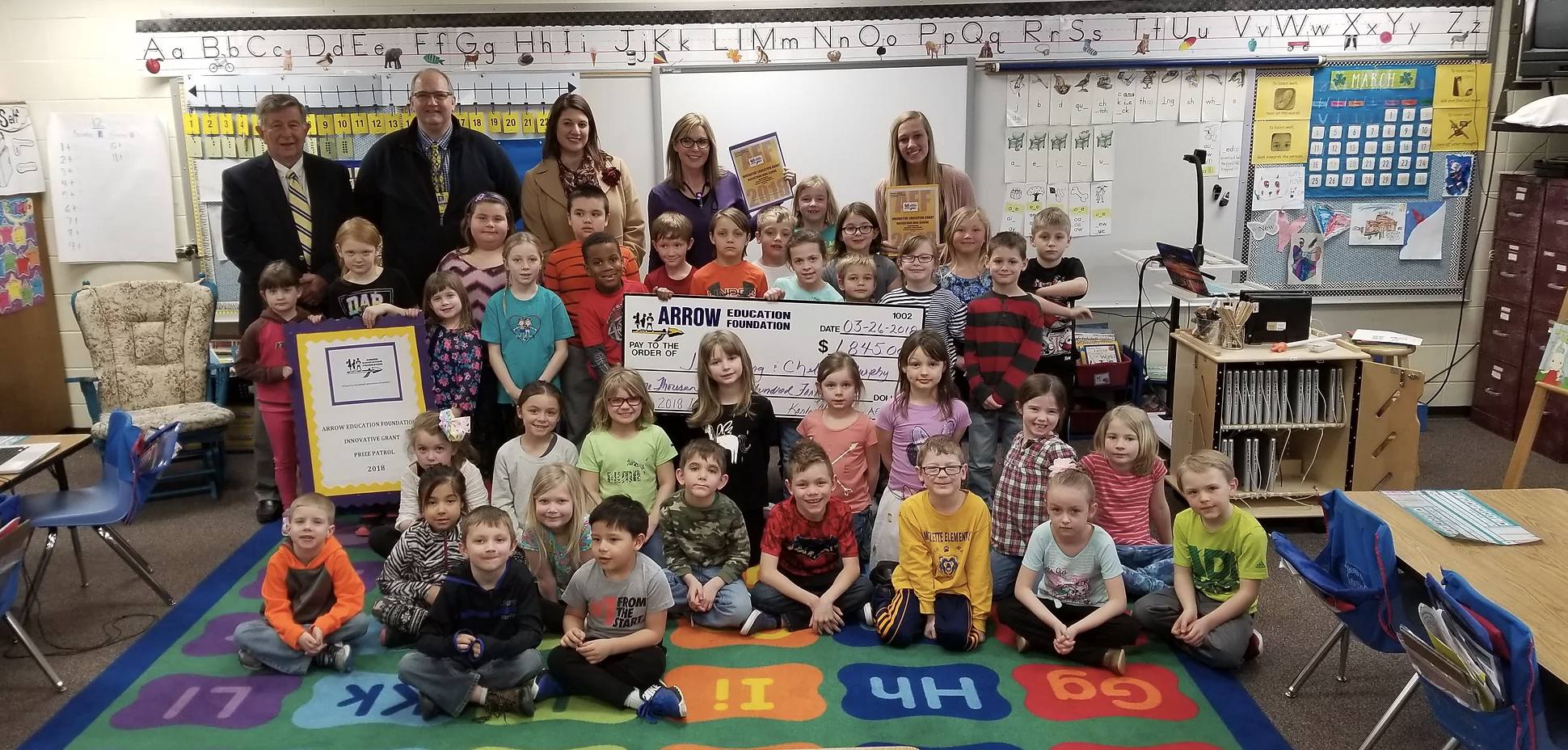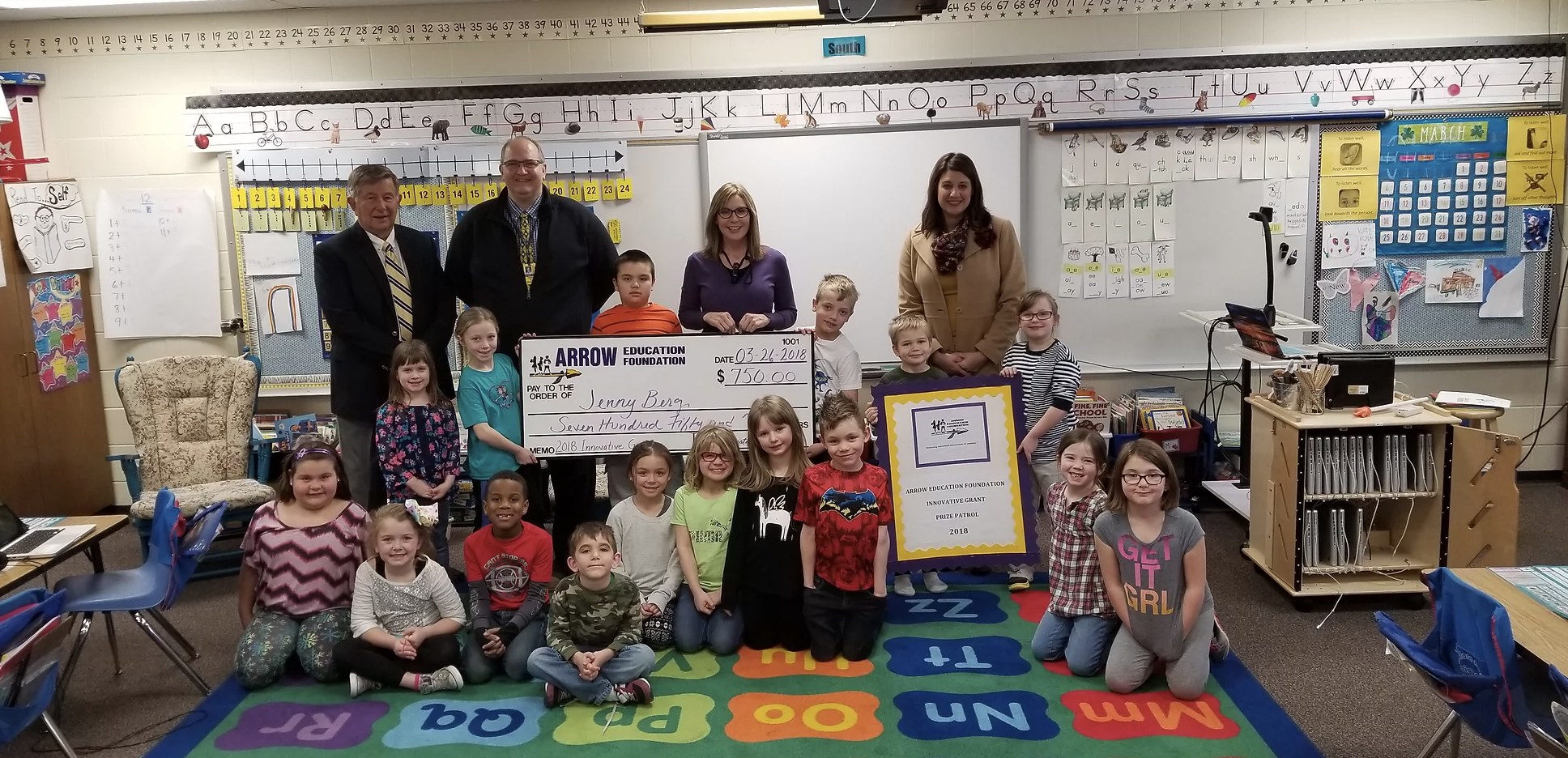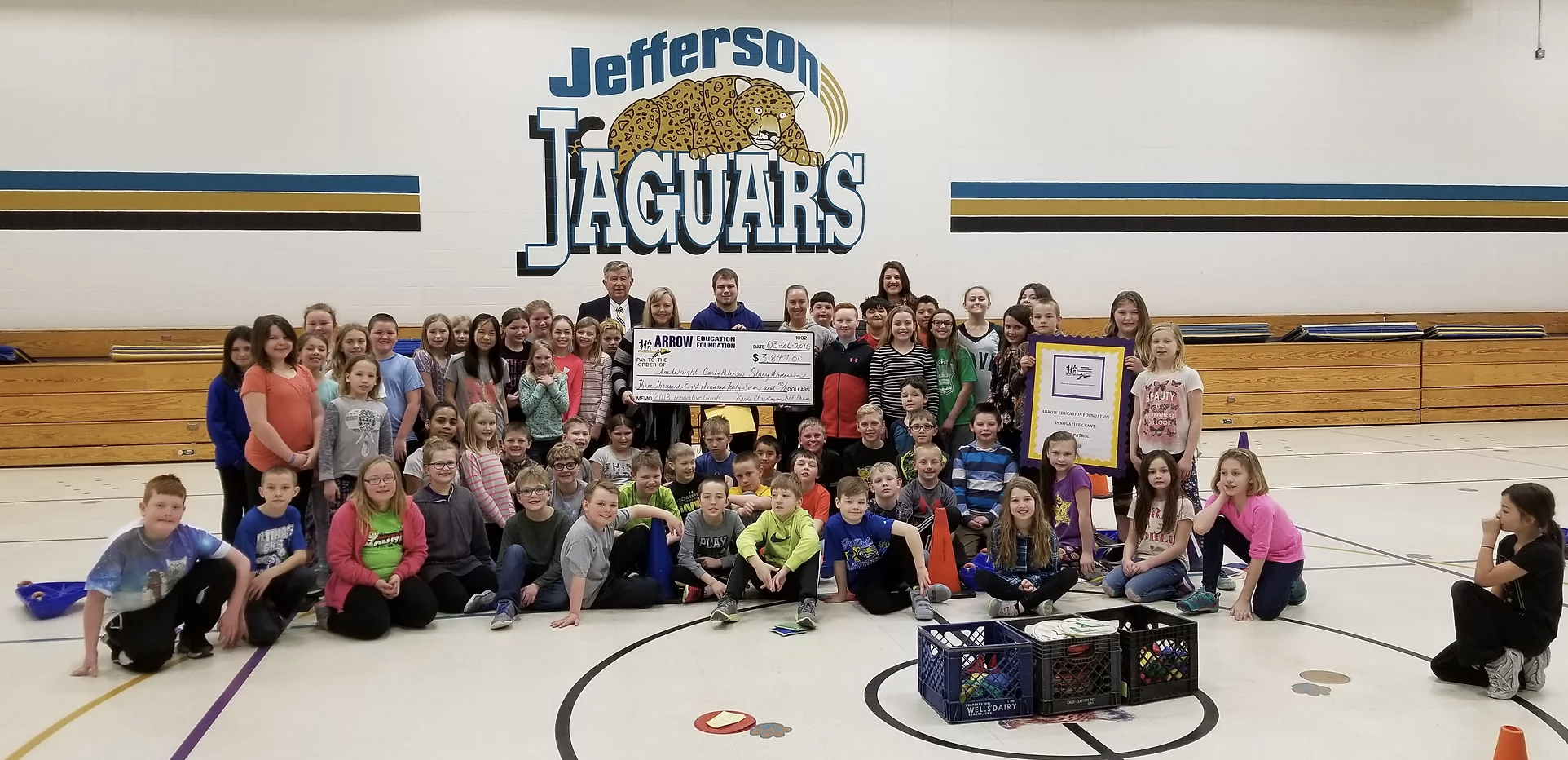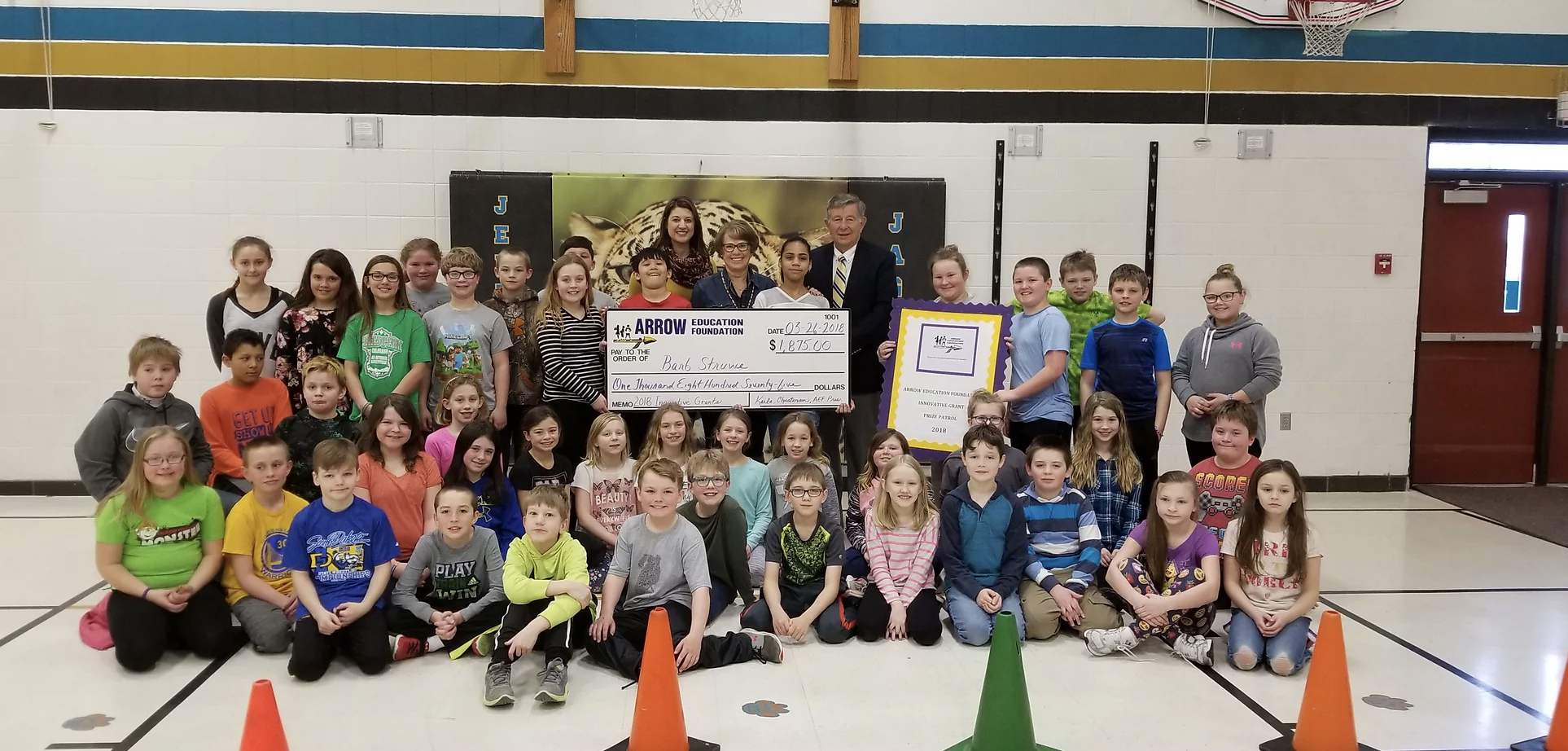 2018 Innovative Grant Award Recipients
$27,998.34 TOTAL GRANTS AWARDED
Each year, the Arrow Education Foundation awards grants to Watertown School District staff for innovative programs and materials that are beyond the scope of the regular school district budget to enhance the educational experience of WSD students. We are pleased to announce this year's recipients:
Jefferson - Barb Struwe & Wendy Olson: Pony Tales Book Club - $1,875.00
There is a love connection between girls, reading and horses. Because horses are such sensitive beings, they have the ability to mirror human emotions. Pony Tales Book Club brings this connection together. Sessions will be held in the barn, at The Way of the Horse; an EAGALA (Equine Assisted Growth and Learning Association) certified facility. Each group of 12 girls will read the same book. They will gather with the herd for a three-hour session. The girls will actively participate in discussing quotes, characters and themes, while horses interact with the group throughout our time together. The grant will facilitate up to 6 groups, grades 3-6. Each girl will keep their book, complete a craft that compliments the story, and take home great memories of personal development and self-discovery.
Jefferson - Jim Wright, Carly Peterson, Stacy Anderson: Drums Alive - $3,847.00
Drums Alive is an evidence-based program that applies fitness, drumming, music, and education concepts designed to improve the health of children. Drums Alive is a cross-curricular activity for all K-6th grade district students. Music and PE will be able to maximize our time and energy by combining music and physical education classes together. The heart will be pumping with rhythmic and cardiovascular movements. We are very excited to share our Drums Alive talents at next year's high school half time performances!
Lincoln - Sara Overvaag & Karen Jaskulka: Internet Based Multi-Lingual Books - $2,250.00
The ESL Learning and Resource Center is excited to receive funding through the Arrow Education Foundation to purchase 50 titles from the World Languages program from AV2 books. Each book is library bound and printed in English, but also has Internet-accessible content that enables students to read or to be read to in Spanish, French, Arabic, Mandarin Chinese, Russian or English. The new titles will be added to the ESL Learning and Resource Center's collection and are available for use by any student in the Watertown School District.
McKinley - Emily Borkhuis: Modernizing Take Home Reading Program - $1,826.34
Thanks to the Arrow Education Foundation, McKinley Preschool will be adding 160 new books and book bags to our take home reading program. We are very excited to receive this grant! These new books will allow our students and parents to reinforce and practice critical pre-literacy skills at home. Families who choose to participate in this program will take part in a parent literacy class, receive a book weekly, and complete a literacy packet. We know that children who read at least 20 minutes a day at home will hear over 1.8 million words a year, increasing their vocabulary and understanding of the world around them. Reading at home encourages language and brain development as well as life-long skills.
McKinley - Kristi Wietzema, Emily Hatton: Sensory Integration - $1,705.00
Incorporating sensory breaks in our classrooms will give students the choice to better enhance their learning. By having the option to change their seating and using various sensory tools, students will learn to regulate their emotional and sensory needs. We are grateful and excited to receive and use these items in our classrooms.
Mellette - Jenny Berg: Flexible Seating - $750.00
Thank you so much Arrow Education Foundation! I will be using the grant to implement flexible classroom seating. Flexible seating improves engagement and active learning. Comfortable classrooms physically and psychologically promote a sense of wellbeing, keep minds focused, and limit distractions. The grant money will be used to purchase furniture and storage solutions that give students a choice in the kind of learning space that works best for them.
Mellette - Jenny Berg & Chelsea Murphy: Guided Reading Books - $1,845.00
We believe that reading is a huge part of first grade. With the money we have been awarded by AEF, we will be purchasing a set of books for our guided reading groups. These books are leveled to meet student needs. As the students move through the levels of reading, they will move through the different books in the set. Having great materials will better the chances of success in reading for our students. Every student in our classrooms and the students in years to come will greatly benefit from these books.
WHS - Caryl Bunkowske: READ: Damage Your Ingnorance - $2,500.00
Thanks AEF for funding our grant request! This grant will have immediate impact on WHS students. Since
our first book order is ready to be placed, we will be reading compelling stories and new nonfiction starting next week! Present and past English students and members of ARROW READS Book Club gave me titles of books they want to read, so many of our new books are students' choices.
Writer, political activist, and Holocaust survivor Elie Wiesel said about writing, "…information must be transformed into knowledge, knowledge into sensitivity, and sensitivity into commitment." My hope is that through the compelling stories read, both fiction and nonfiction, students become more knowledgeable, more empathetic, and more likely to make our community and world just a little bit better than before. That's the power of words and stories: they truly make a difference!
WHS - Cody VanRosendale, Rusty Nelson, Taylor Huppler: Magnetic Period Table - $2,100.00
The high school Chemistry teachers will be using our funds from AEF to purchase locally manufactured Periodic Tables. The Periodic Tables will be produced by Stein Sign Display and are completely unique in the fact that they are magnetic. Each element box can be removed from the table and can be written on with dry erase marker. The tables themselves will be about 5 feet by 9 feet and gives us a lot of options for activities and customization. There is nothing else on the market like what is being created in Watertown.
Robotics Club, Cathy Bierscheid - $2,500.00 from Harry Goose Ind Tech Fund
The Arrow Education Foundation donated $2,500 with a 50% match by the robotics team to support their needs in this year's competition and to help them build their program for future years.
WMS - Bill Weber: Software for IT - $1,800.00 from Harry Goose Ind Tech Fund
We are offering an elective class on laser engraving to the 8th grade students during the 4th quarter of this school year. The Arrow Education Foundation purchased the software needed to create the graphics to load onto the Universal Laser Machine. The software is called "CorelDraw 2017." We are able to laser on wood, tile, glass, mirror, stainless steel, plastic, etc. with the laser engraver. By teaching these skills in middle school, students will have the necessary information and knowledge to run the laser engraver at the high school in the various classes.
Principals John Decker, Mellette & Shannon Knopf, McKinley: Comics, Characters, and the Hero in You - $5,000.00 from Marlys D Bunde Fund (See Video Below)
Artist and cartoonist, Jason Folkerts, visited Watertown School District Elementary schools to share his passion and talent. Jason also presented at a parent's night for all elementary students and their families. Students learned how to create their own cartoon character with Jason's guidance and motivation. He was engaging for all Kindergarten-4th graders and truly made them feel like real artists.